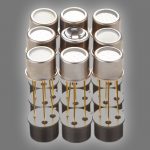 Our new line of Silicon Hybrid Photodiodes are built upon our popular UV line of TOCONs.
Advantages of the Silicon TOCONs – Hybrid Photodetectors
Wide range of selectable sensitivities – picowatts/cm2 to Watts/cm2
Nine selectable models covering 12 orders of magnitude of sensitivity
0-5 volts amplified output
voltage output interfaces easily with your next stage electronics
Compact TO packaging
Well shielded from external noise
Wide spectral coverage:

UV – Visible – Near IR response
290 to 1010 nm
Applications include: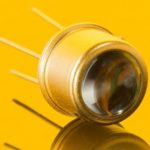 Analytical instrumentation

Chemical analysis
Biomedical

Illumination Control

Laser detection
light source detection
Listed below are the Silicon TOCONs available for sale through the web store. See the selection guide for the full product line.
Silicon Hybrid TOCONs - Web Store
Part
Wavelength
range
Irradiance
Output
Web Store
TOCON Si1
290 - 1010 nm
626 nm peak
1.8 pW/cm2 to 1.8 nW/cm2
0-5 V
Buy
TOCON Si7
290 - 1010 nm
626 nm peak
1.8 uW/cm2 to 1.8 mW/cm2
0-5 V
Buy
TOCON Si10
290 - 1010 nm
626 nm peak
1.8 mW/cm2 to 18 W/cm2
0-5 V
Buy
TOCON Starter Kit

easy test set up
0-5 V
Buy