Developed by optoelectronics pioneers Professors Akasaki and Amano, recipients of the 2014 Nobel Prize in physics, Nikkiso's unique UV-LED technology offers:
Industry leading performance in 265 – 300 nm
Unsurpassed reliability
Unique chip designs are optimized for high-volume, cost-effective manufacturing. Nikkiso utilizes proprietary semiconductor chip innovation customized for the deep ultra-violet regime. Leveraging industry-proven fabrication tools and large-scale sapphire substrates, these high-performance chips were specifically designed to be manufactured in high volume and at lower costs.
A wide range of UV LED are available for easy purchase in our web store.
Micro SMD Devices
These all-purpose miniature surface mount devices are small – just 3.5 mm square – but packed with power, offering up to 45 mW resulting in superior precision, reliability and efficiency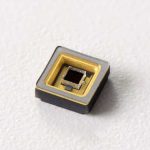 Power output of 16 mW at 265 nm
Power output of 25 or 40 mW at 280 nm
Power output of 30 or 45 mW at 285 nm
Power output of 30 mW at 300 nm
SMD Devices on Metal Core Carrier Board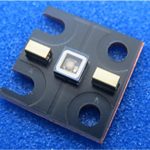 These are end of life (EOL), limited quantities; see our web store for remaining inventory. SMD can be mounted on carrier boards for ease of use particularly in a laboratory application or where packaging flexibility is needed.  No SMD soldering is necessary.  Two Mac8 style press in connectors make these SMD easy to start working with.
Multi-chip Modules
These high-intensity SMD modules can be custom designed for an array of configurations and applications.
  Arrays are available at 265, 285, and 300 nm. Multiple watt output is achieved, with intensity exceeding 100 mW per sq cm
PearlBeam – UV Dose Instrumentation – Collimated Beam Device
The PearlBeam offers researchers the ability to conduct Ultraviolet (UV) light studies to develop UV Dose curves on liquids and surfaces, to easily perform wavelength dependent studies, along with many other applications.
UV LED - Web Store
| Part | Wavelength | Package | Output | Store |
| --- | --- | --- | --- | --- |
| VPS131 | 265 nm | SMD | 12 mW | Buy |
| VPS134 | 265 nm | SMD - 2nd Gen. | 16 mW | Buy |
| VPC134 | 265 nm | SMD - w/board | 16 mW | Buy |
| VPT632 | 265 nm | TO-46 | 0.4 mW | Buy |
| VPS161 | 280 nm | SMD | 25 mW | Buy |
| VPS164 | 280 nm | SMD - 2nd Gen. | 40 mW | Buy |
| VPC164 | 280 nm | SMD w/board - 2nd Gen. | 40 mW | Buy |
| VPS171 | 285 nm | SMD | 30 mW | Buy |
| VPS174 | 285 nm | SMD - 2nd Gen. | 45 mW | Buy |
| VPC171 | 285 nm | SMD w/board | 30 mW | Buy |
| VPC174 | 285 nm | SMD w/board - 2nd Gen. | 45 mW | Buy |
| VPS1A1 | 300 nm | SMD | 30 mW | Buy |
| VPT7A1 | 300 nm | TO-46 w/lens | 2.0 mW | Buy |