Digital Lock-In Amplifier with Phase-Locked Optical Chopper
Announcing the Chop-In Opus 1, integrated phase-locked optical chopper/digital lock-in amplifier, that costs thousands of dollars less than buying a chopper and lock-in amplifier combination. Start making beautiful music in your lab with the Chop-In.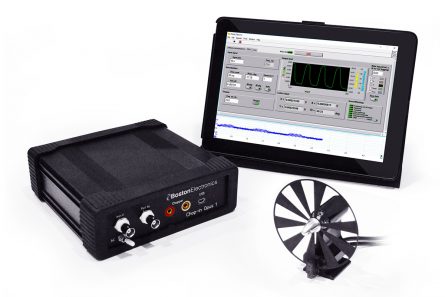 The Chop-In is low cost, all-digital and high performance. It is fully computer controlled, and only needs USB power to operate.
Using the inherent processing capability of your computer the Chop-In software enables lock in performance at frequencies up to 5 kHz, controls all hardware, implements signal acquisition, digital demodulation and filtering.
Add up what it will cost you to buy a separate digital lock-in amplifier and a separate optical chopper system (probably from two different vendors). Our Chop-In will cost you comparable to what an optical chopper alone costs; not even considering the very expensive lock in amplifiers currently available. The Boston Electronics Chop-In changes that equation.
USB powered
Frequencies up to 5 kHz
3" diameter chopper wheel; able to fit into tight spaces, and is compatible with 1" optics
In the box – controller, chopper assembly, software, USB cable.