Infrared Light-Emitting Diodes (IR LED) for 1.9 to 7 um
Our IR LEDs are made by IoffeLED. Devices are available with center wavelengths from 1.9 to 7 microns. Typical  power levels are 10's to 1000's of microwatts depending on wavelength, duty cycle etc.
These devices are superior for the follow reasons: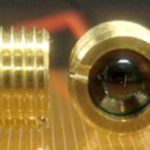 Packaged to easily allow heat sinking and thus higher drive power and higher optical power output.
Ambient operation
Low power consumption (≤0.1 W)
Modulation from DC to VHF
High long-term stability
The UPS Driver is a useful accessory to drive these devices.
See the catalog below for details on our IRLED product line.  Visit our web store to easily purchase the IRLED that you need.
You can conveniently purchase our IR LED online. Note that we stock the Sr housing version. This is a threaded package that provides ease of mounting and heat sinking.
IR LED - Web Store